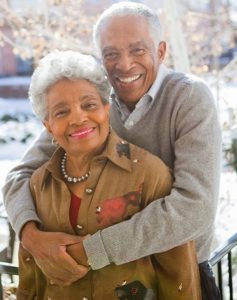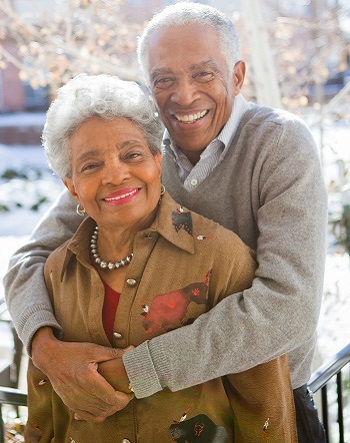 Serving older adults in our senior assisted living Denver community for over 25 years, we are committed to enriching the quality and dignity of life for our residents with respect, love and compassion. As a non-profit care provider, we strive every day to fulfill this mission with the highest level of quality for our beloved residents. We take great pride in our clean and safe property, quality services and caring and responsive staff. We gladly accept private pay, veteran's benefits and medicaid.
Our intimate senior assisted living community in Denver is home to just 70 residents who join us from all walks of life. Think of Dayspring Villa as a curated neighborhood where everyone contributes to a diverse and welcoming atmosphere – a haven where you can let your hair down and feel at home. We strive to include the many different backgrounds, perspectives and languages spoken into the community where everyone learns from one another and we all pitch in to help each other.
Senior Living Apartments Your Way
Senior assisted living in Denver has never felt so right. Feeling safe and secure in your environment is also part of feeling relaxed and at home. While residents have freedom to come and go and welcome guests, for the comfort and safety of all, our building is monitored by staff day and night and visitors are required to sign in. You can rest assured that you or your loved one is in a secured building and has the support they need with our staff on site 24/7.
Whether it's the comfort of a secure building or the security of knowing that a helping hand is just moments away, our residents' well-being is our top priority. The caring and attentive staff can assist you or your loved one with activities such as bathing, dressing, housekeeping, medication supervision, transportation and more. Team members, most of whom are qualified medication assistant personnel, are carefully screened and receive ongoing monthly continuing education training to stay up to date with important aspects of their role.
With your daily needs met and a supportive place to call home, you or your loved one is free from worries and able to enjoy a maintenance free, supported lifestyle. Every resident chooses from one of five private apartment floor plans that all feature private bathrooms, emergency call cords and pendants, a kitchenette, large windows and access to WiFi and cable. Three daily dining experiences and healthy snacks make nutrition easy while still making room for you to have your favorite foods in your own kitchenette. Events and activities are plentiful to offer life enrichment as well as opportunities to meet your neighbors.
Senior Assisted Living Services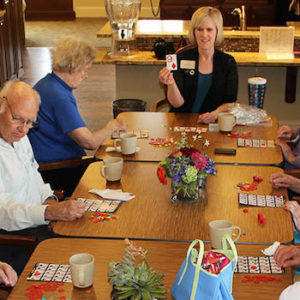 With the goal of supporting you or your loved one to live as independently and vibrantly as possible, we offer our Rhythms Life Enrichment program that is based on four cornerstones of healthy aging: social, inspirational, intellectual and physical. Two large community rooms are often used for popular activities such as card games, game nights, movies and meals. At Dayspring Villa, residents are encouraged to share their hobbies with the community and try new things.
Transportation for shopping and cultural outings in our community van is one of the highlights of the week, and there are often partnerships with local attractions. From Sloans Lake right out your door to the restaurants and shopping in the Highlands to activities in the community and nearby outings, there is never a shortage of things to do, only a challenge to choose what you enjoy.
Finding the right care for you or your loved one can be one of the most impactful decisions you make. At Dayspring Villa, we're here to help you understand what level of care is right for you and if our community is a good fit. We offer assessments that can help you evaluate your needs so that you are only paying for the services you need. Our unpretentious approach can help guide you to your perfect location for assisted senior living.