Life at Dayspring Villa
Residents enjoy gatherings in the community room, delicious and freshly prepared meals, wellness programs, trips to local attractions, and the comfort of their private home "sanctuaries" with kitchenettes. Life Shines Brighter at Dayspring Villa, where we offer all the amenities of apartment living and the extra support needed to enjoy life to its fullest.
Caring team members join with older adults to create a community culture that encourages growth and celebration.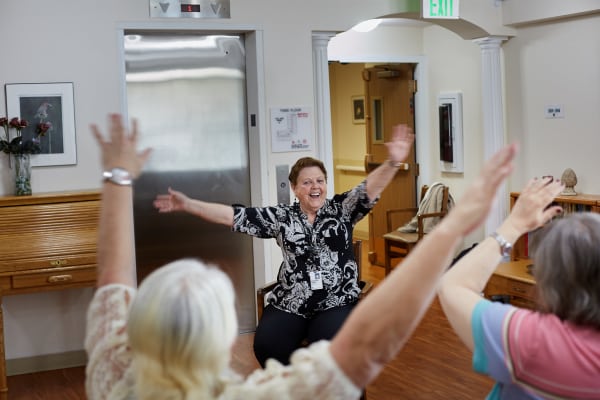 Community Amenities:
Laundry rooms
Community room with kitchen
Community gathering areas on every floor
Accessible bathrooms with walk-in showers
Kitchenettes with microwave and refrigerator
Free WiFi
Historic Gardens
Our Assisted Living Services Include:
Assistance with daily living such as bathing and dressing
Delicious and nutritious meals
Housekeeping
Transportation
Maintenance (including 24-hour emergency on call)
Dayspring Villa implements an inclusive level system for assisted living services making it easier to understand exactly what will be provided and at what cost.
Assessments are completed 30 days prior to moving in, 30 days after moving in, yearly and upon request to ensure each person is receiving the care and assistance they need and that residents and their families are only paying for their specific needs.
Dayspring Villa gladly accepts private pay, Veteran's Benefits and Medicaid.